Goopy, disgusting BLACK mold, alive and growing…UNDERNEATH MY MATTRESS! My two thousand dollar bed. The very bed I spend ⅓ of my time in.
Little did I know I was sleeping with mold.

Instant flashbacks from the past year came to mind: How sick I'd been—sneezing all the time, coughing, congestion, watery eyes. I even came to the conclusion that it was because of the two sweet kitties I'd adopted, and as heartbreaking as it was, I gave them away…for my health. And then how I found it peculiar that once the two lovelies were gone—even several months later—my "cat allergy" symptoms didn't go away. Was it all in my head?, I'd wondered.
And there it was. The perpetrator of the hundreds of sleepless, sneezing, wheezing nights. Alive. Staring right back at me.
But how!?!?
At the time, my views on health and life had been evolving (unbrainwashing) and I'd come to realize the incredible importance of sleep for all things health-related. Whether you're getting enough sleep or not has an impact on your hormones, hunger level, cravings, immunity, metabolism, and your WEIGHT. Sleep controls the hormones leptin and ghrelin, which control our appetite and have an effect on the fat-burning and storing hormones, glucagon and insulin (respectively). Lack of quality or quantity of sleep can increase cortisol—your stress hormone—causing your blood sugar levels to rise and your pancreas to secrete insulin (as if you're eating large amounts of sugary foods without even consuming them!). That can result in weight gain. Yes—lack of sleep causes weight gain and that's why I dedicated an entire chapter to it in my bestselling book "Why Am I Still Fat?".
If you struggle with sleep, it's no wonder you're having trouble with cravings, and your weight.
Improving your sleep will improve your life.
Once I decided to commit and make sleep a priority, the next step was investing in a quality, "top-of-the-line" name brand bed. Getting the right bed was a big deal to me. So I did what most people do when they're in the market for the best bed. I went to the mattress store and picked out a brand name mattress: Tempurpedic—the brand name rolled off my tongue so smoothly. I took out a payment plan for it—other than my car, this was the biggest investment I'd made in my life, and it was worth it to me because my health takes priority. I thought I was doing the right thing. But, I invested in the wrong thing. And my health was paying for it.
As I stared at the mold growing on my mattress, I thought about all of our clients, all of you—who thought you were doing "all the right things" only to find out your low-fat, calorie-counting diets were backfiring and making you sicker and fatter (I experienced this first-hand, too.) I saw the parallel in how my investment to improve my health had backfired…the very one that promised to make me healthier…just like all restrictive diets do with their empty promises. My investment made me worse off than when I started.
I felt sick. Pissed off. Lied to.
So, as I stood there, I felt sick. Pissed off. Lied to. Furious. Disgusted. Deceived. (Maybe you've felt the same way when you found out your low-fat, supposedly "healthy" diet was backfiring?) Mold is a health hazard and at the same time, a lot of people—like myself just a few months ago— don't even know they're suffering from it.
But, I am grateful that I can turn this experience into a positive one by sharing it with you so that you can get rid of your hazardous mattress before it's too late.
What happened next changed my life, and can change yours, too.
I dug into the research: the goal being to learn the TRUTH about mattresses…and to find the best one to support sleep and health.
I searched high and low. I read study after study. AND couldn't BELIEVE what I was finding.
Mattresses can be TOXIC!!!
Who would think to use the word "toxic" to describe a bed!?
What I didn't know until now was how a mattress could not only be a huge blind spot…but also a total health hazard. Name brand mattresses contain nasty chemicals in the foams and materials they're made of that degrade and "off-gas" over time (which means releasing chemicals into the air…and into your lungs and the rest of your body).
The off-gassing is why a lot of mattresses and mattress toppers have that strong smell when you first get them. Spring and foam mattresses off-gas volatile organic compounds (VOC's) which can cause a myriad of health issues from anxiety, memory loss, muscle and joint pain, GI problems, shortness of breath…all from a mattress!? I didn't realize that most are made with layers of polyurethane or latex foam, along with springs and cotton batting. These materials contain many harmful ingredients—like the VOCs, flame retardants, heavy metals and pesticide residues. And the glue that holds them together? Almost always contains formaldehyde. Since mattresses companies are not required to state what's in them (similar to the supplement problem), most of them contain hazardous materials (brands like Tempurpedic call them "trade secrets" and won't even tell you…shady!!)
Foam mattresses also break down quickly (as much as 25% in the first 2 years) and can compress and create painful pressure points. You deserve better than this when you are sleeping!
Your mattress is one of the most important components of your sleep quality. This seems like a big "duh!"…but I don't think most of us are paying attention to our mattresses. I sure wasn't.
And it was in the depths of my research that I found OrganixBed.
I've been DYING to share this experience with you. But a problem without a solution is still a problem…so I wanted to wait until I not only found a solution, but made sure I LOVED it. (I'm a pretty big skeptic about most things so I take my time making decisions.)  Believe it or not, I KNEW after a single night sleeping on my brand new OrganixBed mattress that I was in love. (Love at first sleep!) I slept better that first night than I had in ages. It's like the moment I discovered how a few Glutacaps™ can take away a sugar craving! Sounds too good to be true, and tough to believe until you experience it firsthand. And three months later since I had that first night's sleep on my OrganixBed, all of my "allergy" symptoms—the sneezing, coughing, congestion, watery eyes—completely gone.
My first impression of my new mattress was that it seemed like a cross between the foam I loved in the Tempurpedic and maybe a waterbed…but there's no toxic foam in this mattress, and no water either! What it has is something called Gel Matrix®.
Gel Matrix® is a layer of pressure-relieving gel which is the perfect balance of soft, supportive and comfortable—this material is so effective that it's used in hospitals for both bedridden patients (to prevent bedsores) and burn patients (to promote healing). It gives amazing pressure relief and forms to your body, sort of like memory foam does. If only I'd had this bed when I was marathon running! The OrganixBed is also incredibly durable—studies have shown that OrganixBed will only lose 3-5 % of it's ability to support weight over its entire life—so essentially, your mattress will NEVER wear out.
And what I love about OrganixBed is not only are their beds awesome in every way, but also their customer service is KILLER. Customer service is something personally important to me and it's a big part of my business model. Every day we receive emails saying "your customer service is the BEST!" and that's the EXACT feedback I gave OrganixBed. They truly want you to love your bed (and are confident in knowing that you will!).
Not only does OrganixBed come with a TWENTY year warranty but their follow-up process is impressive to say the least. They followed up with me (with a phone call and email) immediately to make sure the delivery process went smoothly and see how I liked my new mattress…and then checked in again two weeks later to see how I was loving the bed…and AGAIN before the end of the 90 day trial period was up to make sure I was head over heels. (I was, and am.) And yes, you read that right—another sweet spot of OrganixBed's integrity is that you can try it risk-free for 90 days. You've got nothing to lose….but sleep if you stick with your current bed.
My team and I encourage our clients to ask questions, and dig deep.
That's what I do in my research process, so I was super pleased when I bombarded OrganixBed with questions on their research and quality, and without a hesitation, they hopped on the phone with me to educate me and answer every one of them. And they'll answer yours, too.
I told OrganixBed about you. I told them about the problem I had, and how much it scares me that you could be harming your health with your bed, and about my newfound passion for spreading this important message and getting you a new bed that you can be confident isn't harming your health. I told them how thankful I was to have found them and asked if they could support me in this mission by helping you out. Again, they didn't let us down.
They offered 10% off EVERYTHING in their online store…from non-toxic mattresses to their Sleep Tite  mattress protectors to their luxurious bamboo sheets that have quickly become my favorite (never again will I use $20 amazon.com sheets…man, was I missing out!!)
I seriously encourage you to commit to trading in your bed for one that promotes well-being instead of compromising it for better health and better sleep like I was doing, unknowingly. Learn from my experience. Having a quality, healthy (I never thought I'd use that word to describe this!)  bed shouldn't be a luxury, considering we spend ⅓ of our life in it! An OrganixBed mattress costs less than what I paid for the toxic Tempurpedic, is more comfortable and a MILLION times healthier.
Now go browse for your new bed, and don't hesitate to contact OrganixBed customer service with questions. They rock and are well equipped at helping you find the right fit for you.
Don't forget to enter your code REDEFINED at checkout for 10% off AND a free mattress cover AND free sheets!
Side note: I have absolutely nothing good to say about Tempurpedic. Not only was this unacceptable, but their customer service is HORRENDOUS (they don't stand behind their mattresses and I didn't receive a single penny back for my purchase since my "20 year warranty" doesn't cover mold. All I can do now is thank God I found OrganixBed.)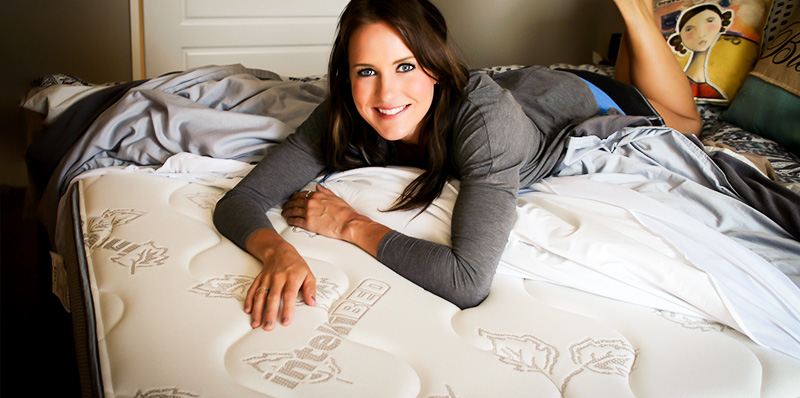 Disclosure: One or more of the links posted on this page is an affiliate link. Please know, however, I wouldn't recommend a product that I don't personally use or believe in.