I get so many questions from all of you asking what I personally eat for meals and snacks, along with which brands I choose. As you may have noticed, I'm not ashamed to share my eating habits and strategies with you! Please note that everything I share with you is based on my own decision and liking; I am not getting reimbursed to promote specific brands.
At every meal and snack, I always focus on incorporating all three macronutrient groups:  protein, carbohydrate and healthy fat. The combination of the three is what contributes to satiety, energy, balanced blood sugar levels, decreased cravings and supported metabolism. Many of you wonder if I eat Paleo — the truth is I follow many concepts that are in line with the Paleo/Primal approach, but I do still incorporate some dairy and VERY occasionally, grains. I mainly focus on eating real, whole foods, and being sure to include plenty of healthy fats and protein while sticking with nutrient-dense carbs (mainly vegetables and fruits).
Breakfast
Nearly every day, I eat eggs for breakfast. A typical reaction to this is: "Don't eggs raise your cholesterol!? How many eggs do you eat each week!?" These are common concerns, but the truth is that dietary cholesterol does NOT raise cholesterol. It's also true that the majority of nutrients and healthy fat are found in the yolk of the egg. Therefore, I will never throw out the egg yolks, nor purchase any type of egg white or fake egg product. And to answer the question, I eat a couple dozen eggs each week 🙂
For breakfast the eggs are my protein, some type of vegetable is my carbohydrate (spinach, mixed vegetables or 1/2 of a sweet potato), and I fry my eggs and veggies in a healthy fat (such as coconut oil, olive oil or grass-fed butter).
On the days I don't eat eggs for breakfast (rarely), I either mix full fat yogurt with protein powder and top it with slivered almonds and fresh berries, or I will reheat a couple of my Protein Pancakes or a serving of Egg Bake (pictured). (I like to whip up a big batch of both of these on the weekend and keep 'em in the fridge or freezer for quick breakfasts on rushed mornings.) For a little added nutritional punch, I  like to add ground flax seeds and chia seeds to my breakfast every day regardless of whether it's eggs, a balanced smoothie or protein pancakes.
Lunch
My lunches tend to be pretty basic. I like to bring dinner leftovers (easy and balanced!) or tuna or egg salad (made with real mayonnaise, of course). My carbohydrate source tends to be non-starchy vegetables (like broccoli and cauliflower) raw or cooked, and maybe a half sweet potato or some fresh fruit. My healthy fat is an avocado (spread on my tuna sandwich or eaten out of the shell with a spoon! Seriously). An easy salad idea is fresh greens with shrimp or salmon and a full fat dressing (pictured.)  If it's on the menu at wherever I am at lunch time, I may order baked fish cooked in real butter with a side of veggies or a salad with plenty of protein (like shrimp or chicken) and healthy fats (like olive oil, nuts, seeds, avocado).
Dinner
Dinner is where I like to mix it up and have some fun. I love experimenting with new recipes. Lately, as I've been getting much busier with balancing all of you (my clients 🙂 ), I've been trying to slow down the pace of my life, and in doing so, have set a goal of cooking at least a few meals each week.
When I'm not cooking a new dish, an easy fall-back dinner is tossing a piece of salmon (protein) on the grill or in the oven and drizzling it with olive oil (healthy fat) and serving it with a side of steamed veggies. Another quick dinner for a busy night is frying up a salmon patty (protein) in coconut oil (healthy fat), and sweet potato (carbohydrate), and topping the burger with avocado slices (healthy fat) and the sweet potato with butter (healthy fat).
Snacks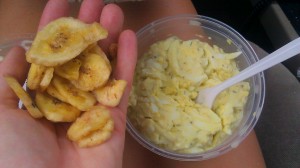 Snack times are a few of my favorite times of the day! I get excited about having healthy balanced snacks between meals, not only because I like to eat, but because they give me energy 🙂 I eat a morning, afternoon and bedtime snack.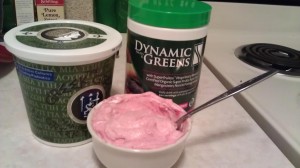 Snacks keep my metabolism revved up and my blood sugars stable, giving me brain power to focus and make it through the day without being hungry. My protein at snacks is typically a hard-boiled egg, full fat cottage cheese, or, if I don't have tuna or egg salad for lunch, I'll bring a half-cup serving of one of these for snack time. I love snacking on nuts too, so often times I will have a handful or two of nuts for my healthy fat, or a couple spoonfuls of natural peanut butter. My carbohydrate source is always fruit, veggies or yogurt. An easy, already-balanced snack is full-fat Greek yogurt, because it contains carbohydrate, healthy fat and protein. I add Dynamic Greens (a stevia-based whole foods powder) for flavor and a little extra nutrition (antioxidants, probiotic, fiber). Strawberry-Kiwi is my favorite flavor 🙂
Sometimes for snacks, I even use a dinner leftover and re-heat it for a snack (such as the pictured stir-fry with shrimp and veggies). My dinners are already balanced with carbohydrate, protein and fat, and it's easy to throw together a cup serving into a tupperware!
Bedtime snack is the only time of day when I don't eat (or recommend) having protein (unless you exercise right before bed). Because of the fact that protein increases your metabolism and can greatly interfere with sleep if you include it. I always have a carbohydrate and fat source before bed, such as bananas and peanut butter, or a pear sauteed in coconut oil and topped with cinnamon and walnuts. (YUM!) (Pictured below.) Another favorite of mine is a cup of berries (fresh or frozen) topped with a couple tablespoons of coconut milk or heavy whipping cream. With the frozen berries, it's like a sorbet! But you can always keep it simple by having a whole foods based carbohydrate with fat (like pictured: a small clementine and a half or whole avocado).
I hope this post gave you lots of new "real food" meal and snack ideas and a little glimpse into my daily nutrition 🙂 Real food can be delicious too!