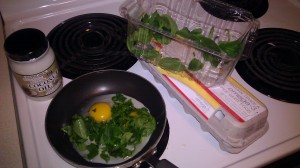 As you may already know, I eat eggs for breakfast nearly every day. It does take time to make eggs in the morning—not a lot of time, but we all know how some mornings can be very rushed. Because of this, I like to always have a back-up. I try to make it a priority to prepare some meals and snacks ahead of time — usually Sundays are for this but sometimes I get in "cooking mode" on work nights too. One of my favorite recipes to cook ahead is an egg bake. They are easy to whip together and refrigerate, freeze and reheat really well! I like to make a pan ahead of time, cut it into eight portions and freeze four pieces for later use (or emergency meals or snacks!) and put the rest in the refrigerator for quick breakfasts for the next four days. I have this same prepare-ahead-and-reheat system with protein pancakes too 🙂
Many people ask me for the recipe to my egg bake, so it's been on my mind for a while because to be honest, I've never followed a recipe! I usually just whip a half dozen to a dozen eggs together and throw them into a pan with whatever veggies I have on hand (usually spinach, tomatoes and/or other random leftovers). I always add a healthy fat (either heavy whipping cream or coconut milk) and a half cup to a full cup of cottage cheese. Sometimes I sprinkle in some cheese, flax seeds and/or chia seeds. It's quite random but it seems to always turn out great! Regardless, I know it helps to have a recipe to start with when trying new things, so tonight I set out to establish an egg bake recipe. I'm giving you my final recipe, but below I will elaborate and explain possible variations since I think it's nice to know that you have options!
Ingredients:
A dozen eggs
One (5-8 ounce) bag of chopped, fresh spinach
1/2 cup of cooked vegetables (chopped broccoli/cauliflower or peas, carrots, corn)
3/4 cup chopped fresh tomatoes or chopped sun-dried tomatoes
2 Tbsp. heavy whipping cream
1 cup full fat cottage cheese (optional)
Butter or olive oil (to grease pan)
Salt and pepper to taste
Directions:
Preheat oven to 350 degrees.
 Grease a casserole (I use a 9″ x 13″) with butter or olive oil.
Beat eggs in a bowl and add spinach, tomatoes and cooked vegetables.
Bake for about 45 minutes or until the top is lightly browned.
Sprinkle with shredded full-fat cheese, salt, pepper and/or flax seed, if desired.
Cut into six squares and either serve your family their meal or portion and refrigerate or freeze for quick, healthy breakfasts or snacks.
Variations and Observations:
I notice that when I coat the pan with butter (verses olive oil), the egg bake doesn't stick to the pan as much.
Fresh or frozen spinach can be used. I prefer fresh, but for no reason in particular 🙂
The sun-dried tomatoes get a little burnt but they offer a sweeter taste than fresh tomatoes. I really like either!
You can use 1/4 cup coconut milk instead of the heavy whipping cream if you prefer the tropical taste. It's tasty 🙂
Be careful how much flax seed you add — I can tell the egg bake gets a bit dry when I overdo it on the flax!
It may be tempting to cut into eight slices since the squares are so large, but each serving would only have an egg and a half. I normally have (and recommend to my clients) 2-3 eggs at breakfast each day, so I strongly recommend cutting it into six slices. If you think the squares are too large, use a smaller pan. (They get somewhat thin in the 9 x 13 pan.)
Experiment all you want! It usually doesn't have a ton of flavor, but that's where the fun comes in: top it with salsa, sliced avocado, guacamole, spices or even hot sauce if you like!
The great thing about an egg bake is that it's already a PFC balanced meal.  The eggs provide the protein, the vegetables are the carbohydrate and the heavy whipping cream or coconut milk and butter and/or cheese provide the healthy fat. When I want something to eat with it, I usually have a half cup of berries or half of a sweet potato. Enjoy!
Does meal planning stress you out? For meal plans, you'll love our 50 Days of PFC, where it's all laid out for you so you know what to eat for 50 full days. We take away the burden of having to figure out what to eat and lay it all out in one convenient e-guide (we have one for adults, and one for kids, too!)
SaveSave