These are my healthy salad recipes I showed today on TV today — delicious, better-for-you alternatives to traditional pasta, potato and cool whip salads. Bring 'em to your next party, picnic or potluck and let me know what the crowd thinks!
I included the sugar breakdown of my original recipes in comparison to the traditional recipes at the end of each recipe description. I calculated the sugar content by taking the total carbohydrate content of a single serving and dividing by four, which gives the number of teaspoons of sugar it turns into in the body. At the end of the description of each recipe, I also note if it should be counted as P (protein), F (fat), or C (carbohydrate). I encourage eating a balanced PFC at every meal and snack, so this is to show how these salads fit into balanced meals and snacks! (Note: Many salads are completely carbohydrate based and I never recommend eating a carbohydrate alone. Here's why.) Also note that all salads are gluten-free.
My "No-Potato" 

Cauliflower 

Salad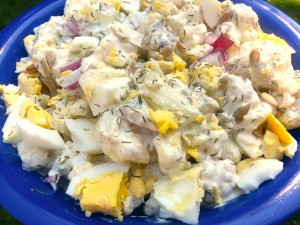 This is a nutrient-dense, better-for-your metabolism and waistline alternative to traditional potato salad, thanks to the cauliflower in place of white potatoes. It would also be great with broccoli added in, but I like how with just the cauliflower it maintains the same white/yellow color like traditional potato salad. Note: I consider this salad balanced with protein, healthy fat and carbohydrate (PFC!). 1 cup serving has 1 teaspoon sugar vs. 8 teaspoons sugar in 1 cup serving of traditional potato salad.
Ingredients:
1 head cauliflower

½ dozen hard boiled eggs, peeled and chopped

1 cup real, full fat mayonnaise

1 cup sunflower seeds

½ cup medium diced red onion

1 tablespoon dill weed

Juice from half of a lemon

½ tsp. sea salt
Directions:
Cut the cauliflower into small florets and steam.

Run under cold water, pat dry and place in a large bowl.

Mix together the mayonnaise, red onion, dill weed, lemon juice, sea salt and sunflower seeds.

Combine all ingredients into the bowl with the cauliflower and gently fold in the hard boiled eggs.

Serve immediately or for better results, let chill in refrigerator overnight or for an hour or two before serving.
My Fresh Fruit and Yogurt Salad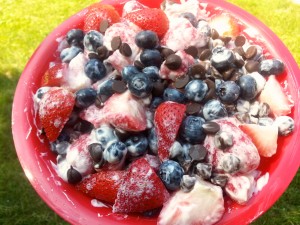 Replace the cool whip with nutrient-packed Greek yogurt. This recipe is so simple, yet so decadent. Serve it as a side to a meal or as dessert. Use generous amounts of fresh fruit of your choice. (I chose Independence Day themed fruit, and berries are the fruit with lowest sugar content.) Note: I count this as a carbohydrate and a fat choice (even though it does have a small amount of protein from the Greek yogurt, it's not enough to count as your protein source. This makes a perfect bedtime snack since you don't need protein before bed). 1 cup serving has 4 teaspoons sugar vs. 12.5 teaspoons sugar in 1 cup serving of traditional cool whip fruit salad.
Ingredients:

1 ½ lbs strawberries

1 pint blueberries

1 cup full fat plain, Greek Yogurt


2 grams (2 packets) of Stevia

3/4 cup extra dark chocolate chips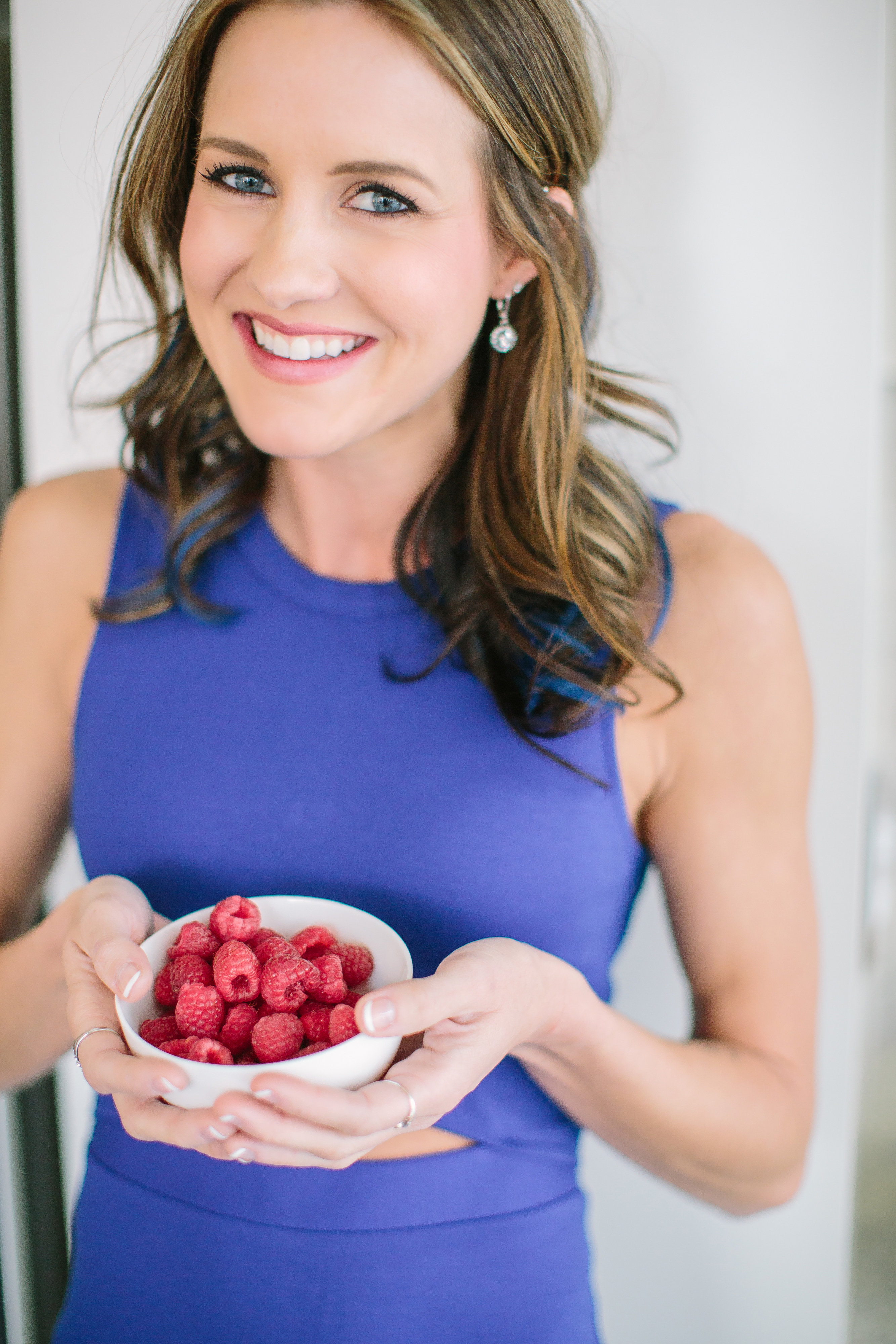 Directions:  
Wash the strawberries, trim off the stems and cut them into bite size pieces (halves or fourths depending on their individual sizes.) Place them into a large serving bowl.

Wash the blueberries, and gently fold them into the strawberries in the serving bowl until the red and blue colors are mixed together.

Mix 2 packets of Stevia into a cup of plain, full fat Greek yogurt.

Gently stir the Greek yogurt mixture into the fruit.

Toss in the dark chocolate chips.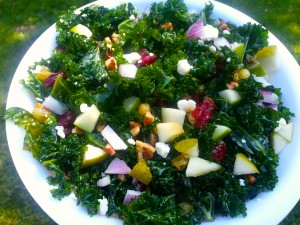 My Sweet Kale Salad
Ditch the pasta, and use nutrient dense carbs: beautiful kale LOADED with craisins, raisins, chopped apples, pears, and healthy fats like feta cheese, pine nuts and pecans. Note: I count this as a carbohydrate and fat choice. 1 cup serving has 4 teaspoons sugar vs. 8 teaspoons sugar in 1 cup serving of traditional italian salad.
Ingredients:
1 bunch kale
1 teaspoon sea salt
1/3 cup crumbled Feta cheese
1/2 cup pecans
1/2 cup diced apple
1/2 cup diced pear
1/2 cup red onion
1/3 cup pine nuts
1/4 cup craisins
1/4 cup raisins
1/2 cup olive oil
2 tablespoons red wine vinegar
1 teaspoon sugar
Juice from half of a fresh squeezed lemon
Directions:
Wash the kale, pull the leaves off the stems and toss out stems. Chop the kale into small pieces and put it in a big bowl. Sprinkle the teaspoon of salt over the kale and massage it with your hands for a few minutes, until you notice the color turning darker green and the kale softening in texture.

Toss in the red onions, craisins, raisins, apple, pear, pine nuts, red onion and pecans. In a small bowl, whisk together the olive oil, vinegar, lemon juice and sugar. Pour over the salad and toss until it is evenly coated with the dressing. Sprinkle Feta cheese over the top and serve right away or let it marinate for 10-15 minutes prior to serving.
Sugar cravings killing your joy?
I've mentioned sugar content in these recipes for good reason. Conquer those cravings with this amazing step by step guide! In the free download, finally grab your freedom from Sugar!
Get my Sugar Craving FREE Guide!