Based on numerous requests from you (my loyal followers!) I've put together a recap of my 2 weeks in Maui. This is basically a (super thorough!) review of everything: from where I stayed and what I did, to places I ate, what I liked, didn't like…and more.
Before we head to the island:
This trip was unique and special to me for a few reasons. I booked this trip just 5 days before I left because I hit a wall. So, you'll notice that this quickly-planned excursion runs the full gamut of Hawaiian experiences—for example, I stayed in both a hostel and a high-end resort while I was there. It's all about balance, right? 🙂
Quick backstory on WHY I booked this trip: I was completely burned out, I'd never been to Hawaii and always wanted to go, and I had a decade's worth of credit card points to use before they expired (that would cover this trip in its entirety).
Quick backstory on HOW I booked this trip: When I was in Utah the prior weekend, I made a new friend named Beth. She and her family were going to be in Maui, and my friend Jeff chimed into our conversation saying that he'd be there the weekend after. It made sense to bookend my trip with the plan to meet up with each of them, and fill in the time in between. That's why I stayed in Lahaina (to coincide with Beth's trip) and Wailea (at the same resort as Jeff). Also, the original plan was to do this trip solo, but to my (joyful!) surprise, my friend Maddy decided to join me for 4 nights, which was a blast, and we packed a lot of adventures into those 4 nights, which I'll share with you.
The BEST resource throughout my trip was Maui Revealed: The Ultimate Guidebook. My friend Roger gifted me with this gem and it made all the difference! Highly recommend it.
Lastly, this is not a sponsored post. No one has paid me to mention or review any product or locations. I simply wanted to give my honest review to help you plan your amazing (and healthy!) trip to Maui, whenever the mood strikes YOU!
Okay, onto the fun stuff!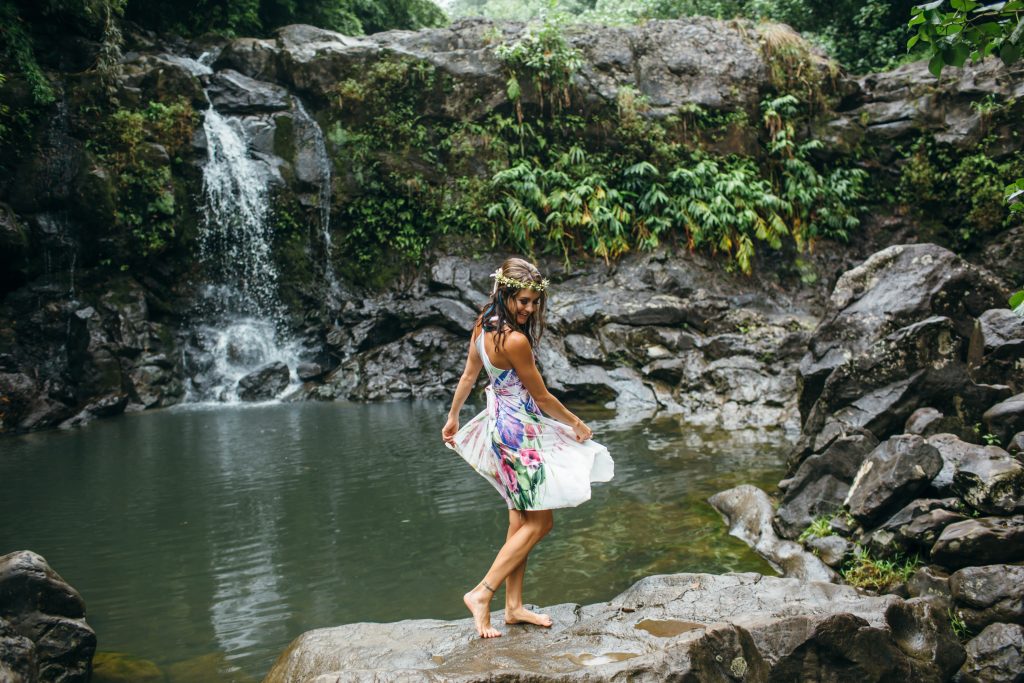 Where I stayed (The Lodging):
Over my 14-night vacation, I bounced around 5 different hotels, hostels, and resorts. Phew! That was a lot (too much) unpacking, repacking, and repeat. But the good news is that you get the inside scoop about multiple lodging options instead of just one!
1) Hakuna Matata Hostel: I realize the hostel life isn't for everyone, but if it's your thing, then I highly recommend this place! They have everything you need from free parking to excellent wifi to breakfast. I also love that they have a beautiful backyard with hammocks and free rentals of bikes and I think even surfboards.
I stayed here my first couple of nights in hopes of making some friends at the beginning of my solo trip. It's a nice community feel… and only a block from the ocean!
I remember crashing at hostels the month I backpacked across Europe back in 2011. Even though I really enjoyed my stay here, I realized that I might just be "over" the hostel experience. I don't know, maybe it's just the fact that I'm older and highly value my personal space (2 bathrooms for 24 people is …well, an experience), but I doubt I'd stay here again. If you're in your twenties or just love rocking out the close community feel, then this is your joint!
2) Puunoa Beach Estates: From the hostel I landed here. Talk about a night and day comparison!  The condo is incredible. I even felt a little guilty about how much space I had! I stayed here 4 nights and had the entire place all to myself— with a full kitchen, outdoor patios, separate wing with extra bedroom and bathroom (which didn't even get used). I think this place is perfect for families. This was at the beginning of my trip, so I was still taking work calls on the patio near the beach (however, the wifi was a bit spotty.) If you're looking for more of a secluded experience, then you might consider this place. It has a beautiful beachfront property and a lovely hot tub that I almost always had to myself. Just be warned that there is a lot of coral at this beach. While I was jumping waves and swimming in the ocean here, I got into a battle with some coral reef, and hurt my leg. A week later I almost went into urgent care since it was still throbbing and didn't look to be healing very well, but that same day I was introduced to 2 wound nurses staying at the same hotel. Love how life works! 🙂
3) Royal Lahaina Resort: I am a sucker for the ocean, and while I enjoyed Baby Beach at the Puunoa Beach estates (until the coral got me), I'm glad I stayed there first, because once going to Kaanapali, it'd be tough to go back! It's crazy how this beach—located in technically the same city as the other 2 places I stayed—felt completely different and so much nicer.
By this time, my friend Maddy had joined me. The one night we stayed here we took advantage of everything, including a great dinner (food was good, service was better), yummy drinks, beach time, hot tub time, and a jog around the golf course on the path. The ocean was cleaner, bluer… I witnessed dolphins come out of nowhere and start swimming with people on the beach! I watched whales jumping from the comfort of the hot tub which overlooked the ocean. The only downfall is that the bungalow room was super tiny—the smallest room of all of the places I stayed, and the hot tub was small too. That said, the grounds were incredible, and I wish I'd had more than a night here!
4) Kohea Kai Resort Maui: I don't really have too much to say about this hotel, other than it was very average. Perhaps I was spoiled after staying at the Royal Lahaina Resort, but I think even with an unbiased set of eyes, I wasn't impressed. It wasn't nearly as nice as I thought it'd be, and for the price (credit card points), it felt like a pretty big letdown. I did appreciate that they had a hot breakfast in the morning. I'd get scrambled eggs and also grab some hard boiled ones for snacks later, fruit, peanut butter and they even had gluten free bread. This resort is just across the street from the ocean, but the beach wasn't nearly as nice as the previous and next resort. There also weren't as many people around, but maybe for some people that would be a positive. The hot tub was small, but there was never anyone else around, so that was nice. 🙂
5) Fairmont Kea Lani, Maui: Hands down my favorite place to stay—by far. The service was exceptional, room was enormous (all rooms are suites), had a balcony (I think all rooms do), they have a nice hot tub and several pools. The grounds are gorgeous and the ocean views and sunsets are to-die for. I think a lot of people come to the island, check in and never leave the resort- which is totally cool if that's your type of vacay. Part of me can see why that's so appealing, because after checking in here, it was hard to leave. I had many activities planned over the time I was there, and would have loved to just chill and have a couple legit "beach days" there with the sole purpose of reading and relaxing. That's my one regret: not being able to enjoy this resort more! But I'm so glad I ended my my Hawaiian vacation here. The perfect grand finale. I'd start my day with yoga near the beach, and end it watching the sunset from somewhere on the beautiful grounds —or one night I ended it with the (free) lavender body mud mask in their spa! While paradise is a word that could be used to describe the whole island, this resort fully embraced it in every way.
What I did (The Adventures):
Nearly every activity I did was based on a verbal recommendation, a suggestion from an Instagram follower (thanks for all those!), or something I read about in the Maui Revealed Guidebook.
Surfing: One of the main highlights of my trip! I'd never surfed, and honestly never really had a huge interest in it, but after the first minute or two, I pretty much considered myself hooked. 🙂 I love the ocean, I love being active and I love a challenge. This was an epic combo of all of these things. I especially love how present and mindful you need to be when surfing, and I learned a really important lesson that I shared in this short post.
I did a group lesson through Maui Surfer girls, which was a great experience. They ended up rescheduling my lesson twice (once because they didn't have enough people signed up, and once due to windy conditions). But thankfully I was able to still make it work. There were 4 of us in my group lesson, and the instructor was great. They had a portrait package option with the lesson, which was totally worth it to get footage of my first time surfing. 🙂 After my lesson, I felt comfortable going out by myself, so I spent a couple more days surfing, and am seriously considering moving near the ocean to get to make this part of my lifestyle.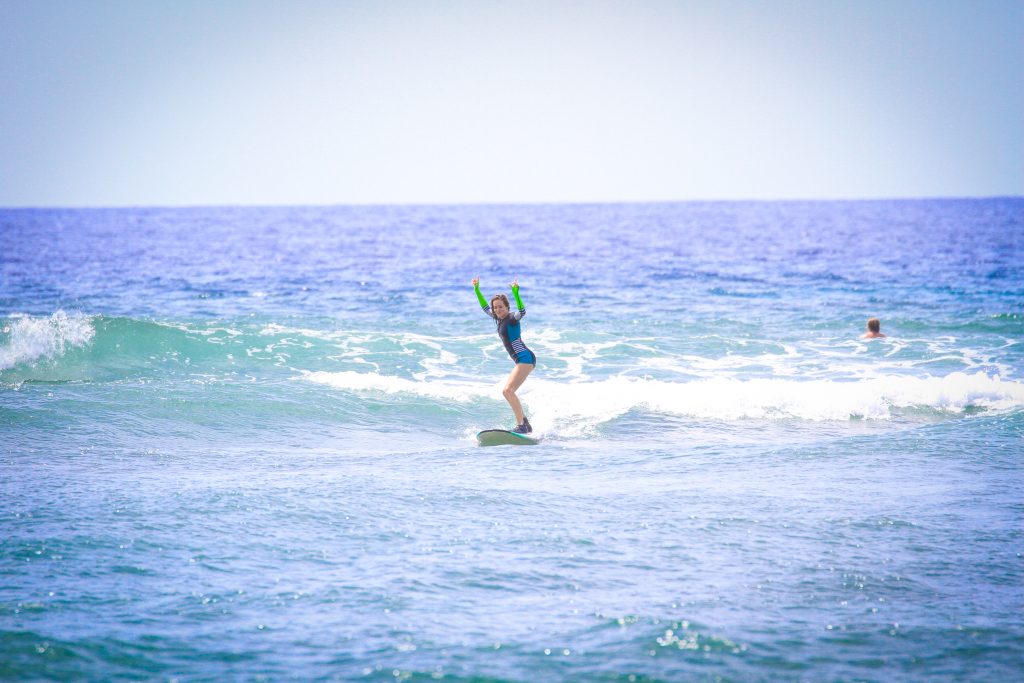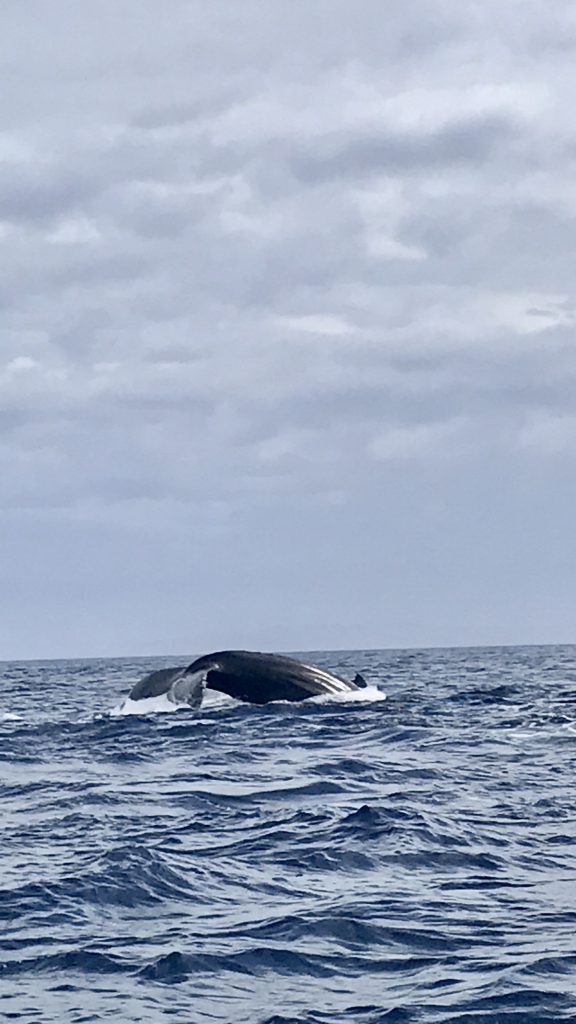 Whale Watching: My hairdresser in Minneapolis recommended I do this, and do it through the Pacific Whale Foundation. It's a non-profit, so the proceeds go back to the whales. He said to make sure to do the raft—not the big boat. I'm so glad I followed his advice! This was INCREDIBLE. Like, WAY cooler than I'd ever imagined! Obviously your experience would be different if you didn't see any whales, but I did! In 2 hours, we must have seen 40 whales, several which came almost too close to our raft for my comfort! The guides leading the excursion were super knowledgeable and passionate. I learned a lot. I highly recommend doing this.
The Grand Luau at Honua'ula: I was told that in Hawaii, the one thing I MUST do is attend a Luau! After chatting with both locals and visitors and doing my own research online, the consensus is that the top 2 luaus on the island are Old Lahaina Inn and The Grand Luau at Honua'ula. Both are booked quite far in advance due to high demand, but thankfully The Grand Luau at Honua'ula had tickets available, and happened to be within walking distance of the Fairmont. It was a great outing to do as a group—me, Maddy, my friend Jeff and our new friend Jason all went together. And while I'm glad we went, I don't feel the need to do it again. It was entertaining and a neat experience, but $108 for so-so food and drinks, I'd probably pass and go for a nice dinner. Also, I've been asked on social media if it was family friendly: absolutely.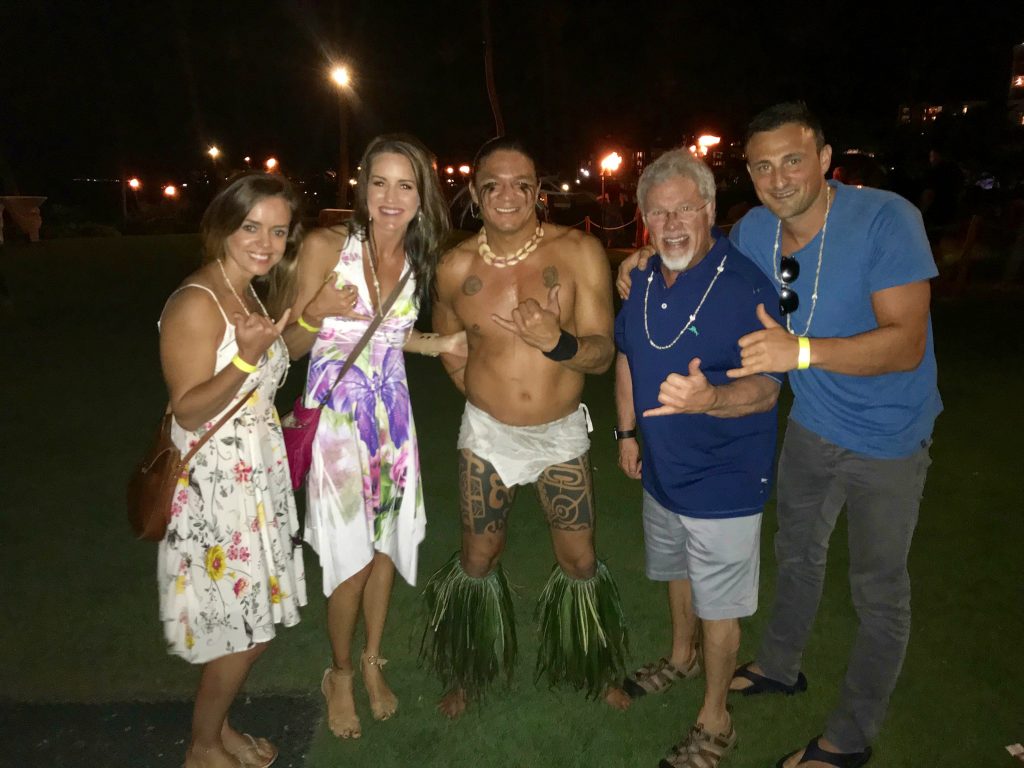 Nakalele Blowhole: This was recommended by a young couple I met, and I'm sooooo glad we took the time to do this. The Blowhole was spectacular, and the drive up to the north end of Maui to get there was crazy. I've never been standing in a windier place in my entire life. As I attempted to take photos and videos, my phone practically blew out of my hand! I'm glad I waited for Maddy to do this, because I wouldn't have hiked down as far without someone else with me. It's a bit of a sketchy hike to get very close to blowhole, but I recommend it if you can. Protip: be sure to not wear flip flops!
So, what is the blowhole? "A blowhole is a hole in the ground that connects to an underground, partially submerged ocean cave. The cave and opening are shaped in such a way that when the ocean rises or waves crash into it, a jet of water and air is violently forced out through the hole," according to MauiGuidebook.com. The guys from Maui Revealed Guidebook said once they were there when it wasn't blowing a thing, and four hours later they returned and found it viciously shooting 70 feet into the air every few seconds. There are signs all over saying that you are risking death if you get too close… and while we were the most adventurous out of anyone else that was there at the same time as us, we kept our distance. The wind was so crazy that it made it hard to communicate (and even hard to think)! After about a half hour of hiking down, hanging out, attempting to get some pics and videos, I was definitely ready to head out! So the other nice thing about this excursion is that this does not require a lot of time (just depends on how far you need to drive). We saw one couple get out of their car, take a peek, have her dress blown up to her neck, and leave…hehe.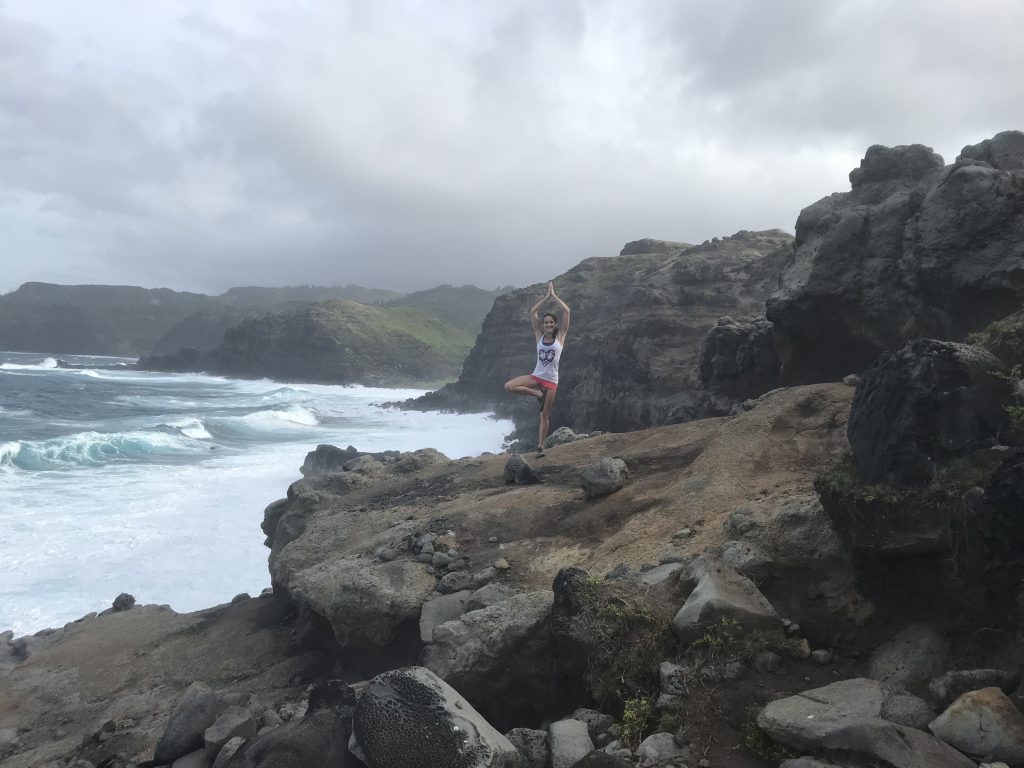 Haleakala National Park Sunrise Tour + Cycle Downhill:

The sunrise was majestic… but it ended up being my least favorite excursion. Allow me to explain…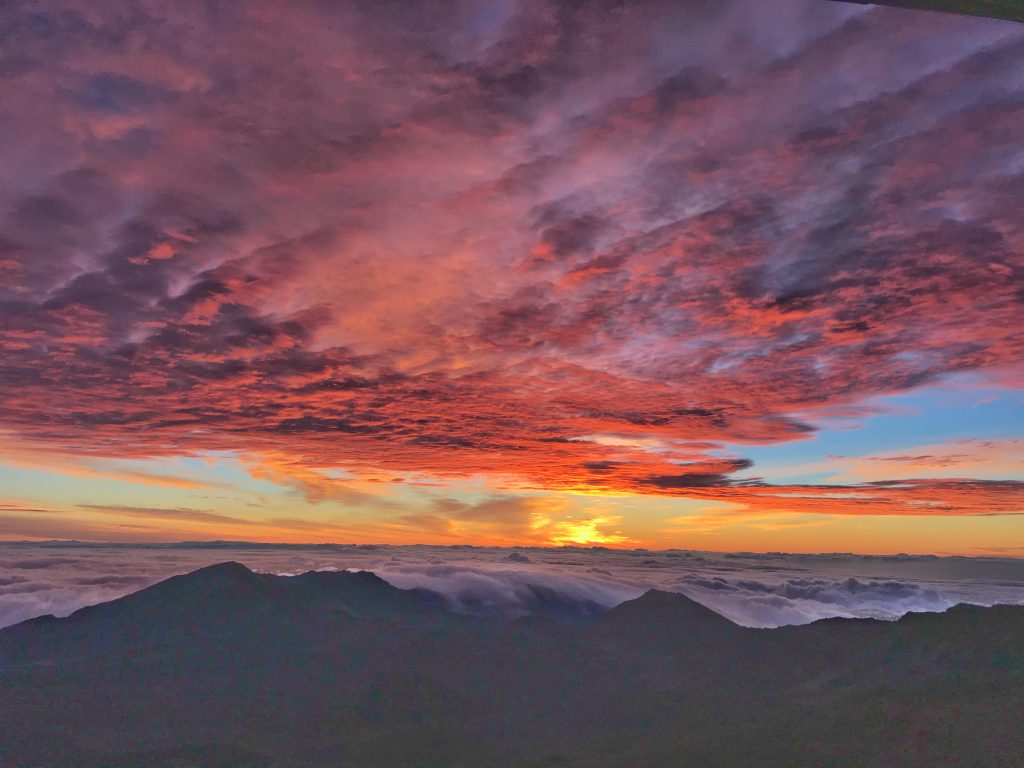 The sunrise at Halekala, the 10,023 foot summit, is the most beautiful sunrise I've ever seen… You're watching the sun rise above the clouds from the rim of the crater, and you can feel the temperature warm up as the sun rises. Incredible. But you have to work for it. First of all, it's VERY cold and windy up there. And even with my Minnesota blood, I didn't bring enough warm clothes to make this comfortable—even with hats and gloves! We froze. Secondly, in order to get all the way up the mountain in time to see the sunset, you need to get up EARLY (or just don't ever go to bed… like we did…). Commit to leaving extra early because we saw cars pull up just after the sun had risen. That would be such a bummer to have not been there in time!
The tour we booked drove us up there in a bus. On the way back, they dropped us off part way down the volcano, where there were bikes and motorcycle helmets (you read that right!) waiting for us on the side of the road. We then cycled 23 miles down the mountain. As cool as this sounds (you know I love to bike!!), I did not enjoy it. The road is one single lane and it wraps around the mountain, which is not the safest to begin with. Plus, you're biking down as cars try to pass you. Unfortunately, if you're looking for a workout in any way, this isn't it; you have to pump your brakes the entire way down! My experience was staring at the biker in front of me and trying to gracefully brake without hitting them or braking too hard and flying off my bike… for 23 miles. I was going very cautiously at first, until the tour guide told us we had to speed up—it's too dangerous to go too slow. I did not like trying to go down this mountain in the first place, and with speed—no thanks! The bikes were already old and rickety, and to me, it was more dangerous and tedious than it was worth… and that's coming from someone who loves to skydive, cliff jump, rock climb and do plenty of other risky things. Plus, it was cold.
Overall, this excursion was talked up more than it was worth, and also waaaay longer than we anticipated: by the time all was said and done, we were dropped off at our hotel 10 ½ hours after we were picked up. This whole sunrise/bike tour lasted that long! There was waaaaay too much downtime and waiting before, after and between the activities. Okay, this Negative Nancy is done.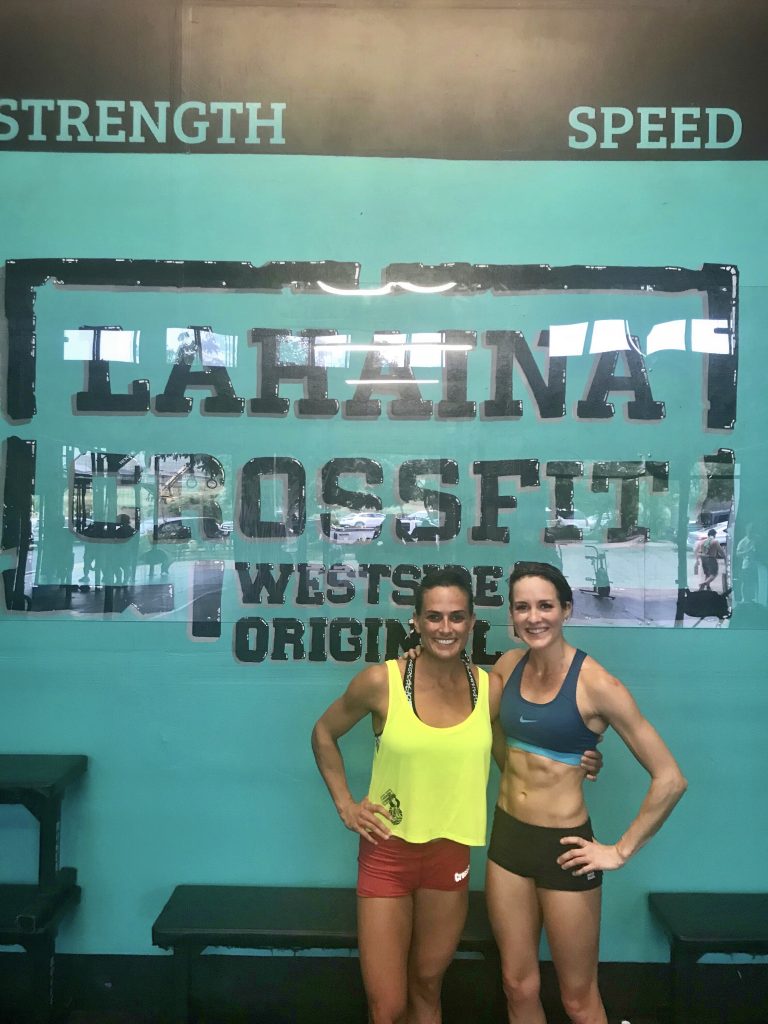 Crossfit: Exercise is a priority for me—even on vacation. I enjoy moving my body. I never feel like I "have to" workout. It makes me feel good. Beach runs along the shoreline were amazing. Also, one of my favorite parts of traveling is trying new gyms and meeting new people. During my time in Hawaii, the Crossfit open was happening. It's an annual worldwide competition that practically everyone in the crossfit community participates in. There are 5 workouts to be done over the course of 5 weeks. You have to do them in a certain time frame and be scored by a qualified judge to submit your score. So, I attended 2 different gyms based on the location of where I was staying, and had awesome experiences at both! It was such a great way to connect with other active people with similar interests—many of which were local. And from my experience, Crossfit gyms always cultivate a warm, welcoming community (more on that in this post). I enjoyed visiting Lahaina Crossfit and Makena Crossfit in Kihei.
Photoshoots: I regularly do photoshoots for our brand, and the look and feel we aim to achieve with our photography is freedom, confidence and beauty…and what better place to accomplish this than the island of Hawaii!? The very first thing I did after booking my plane ticket was start researching photographers on the island (and there are a LOT). I also had to decide what type of photoshoot I wanted. An amazing thing about photography on the island is the endless range of scenery available. Sunrise shoot on the beach? Sunset photos in the rainforest? Lava rocks? Sea turtles? Waterfalls? Black sand? Red sand? How to decide!?
I narrowed it down to doing a sunrise shoot, and a jungle shoot, and I couldn't decide between 2 different photographers, so I decided to book one shoot with each. I'm so glad I did because the experiences ended up being so different—in both style and scenery!
Both of these shoots were absolute highlights of my trip. Both photographers took me to places off the beaten path that I would have never known about or experienced on my own, and helped me see Hawaii through their unique lens (pun intended!)—as transplants who moved to the island and are now residents.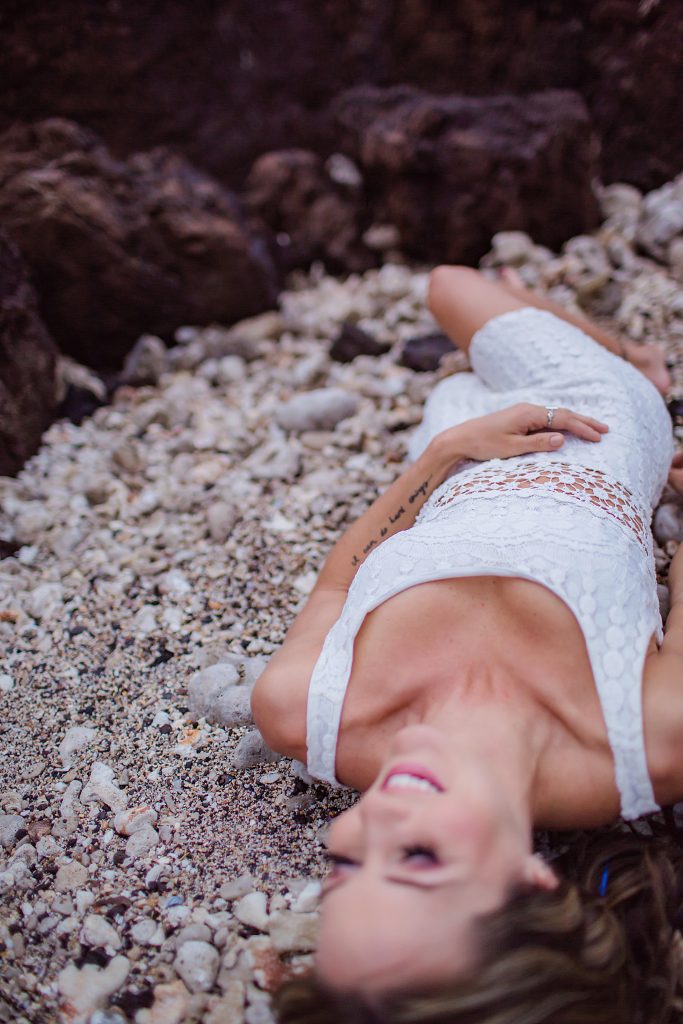 Love + Water Sunrise Shoot: Rated one of the top wedding photographers on the island, I knew I couldn't go wrong. They lived up to the hype! Adam made a 6:15am land + sea photoshoot not just tolerable, but actually super fun! He made me laugh, came up with really creative pose ideas, and we just had a great time. He also took me to a secluded location with lava rocks that I wouldn't have known about, had me splashing and swimming in the water, and the photos turned out gorgeous.
Amy Jayne Photography Jungle shoot: Amy was amazing—not only did she offer to drive to the location for this jungle shoot, but she even went out of her way to show me some other spots in the area after we were done with the shoot. This shoot was much more strenuous than the other one: I climbed rocks and trekked through mud, swam through streams, splashed through waterfalls and really got the full jungle experience. We hiked back so far through the mud into the jungle that there wasn't another soul to be seen. It was a really spiritual experience. Amy was so patient with me as I changed my outfits behind bamboo stalks, and took my time carefully climbing to the boulders she wanted me to pose on. It was a hardcore workout, which got pretty intense, even on the edge of dangerous at times—between the slippery rocks, rain and mud—which is right up my alley, but I will warn you: this type of photoshoot is not for the light hearted. I love adventure so I was all for it!
Colie Lennox: For hair and makeup, I can't recommend this sweet human more! I would hire her again and again. She did both my hair and makeup for both shoots, she came to ME where I was staying (in 2 different cities both times), both at the crack of dawn (4:30 & 5am!), and was much more reasonable than anyone else I'd contacted. Plus, she was such a joy to work with. Not only is her work great, but so is her personality. I've stayed in touch with her since leaving, and would seriously come back to the island even just to work with her again! (I can actually say that about not just Colie, but both photographers, too: I'd come back to Hawaii just to work with all of them again!)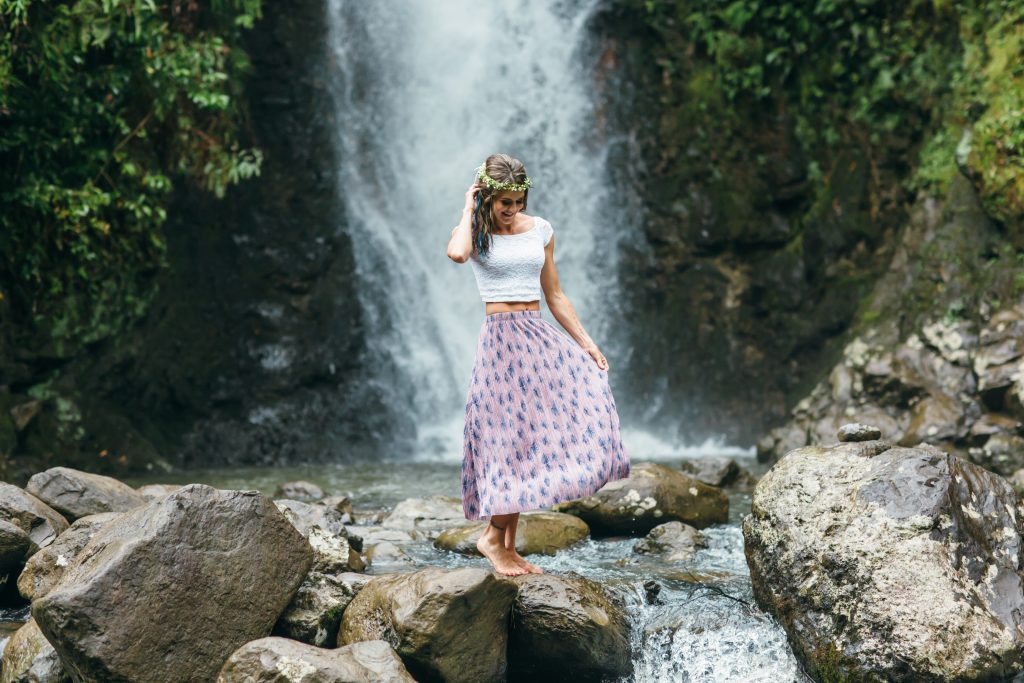 Where I ate (The Food):
I love food, but I love food more when it's with good company. So, the first leg of my trip (when I was by myself the most), I didn't eat out much (I bought groceries since I had a full kitchen in the condo). I did experience some restaurants, so I'll share my feedback on these with you. Despite what I'd heard and the expectations I had, I found it to be rather easy to eat healthy. There are so many options!
Choice Health Bar: This was a recommendation from someone on Instagram, and it was a great one! I had lunch here once—a delicious "plate meal"— I can't even remember what all it contained, but it was all delicious, along with a really yummy iced coffee. Everything looked fresh and healthy, there were SO many options, and I only wish I'd found out about it sooner.
Kimo's Maui: I met up with Beth for a delicious fish dinner at Kimo's. We loved the food, and the environment (outdoor seating is always my fave!). Afterwards, we stopped at Dirty Monkey with the intention of having a drink and doing a little dancing, but we ended up not staying very long. The vibe felt a little… dark(?) for our liking, and we just weren't feeling it.
Cool Cat Cafe: This rooftop cafe is on Front Street In Lahaina, and the atmosphere was fun! It had a diner vibe and was a little noisy, but it was a fun place to go after surfing, and my hunger was satisfied with some fish tacos.
Coconuts Kitchen: This place was recommended by Colie, who said the food was amazing and the owner, Brian, is super nice. Maddy and I both had the fish tacos, which were tasty, but after having a taste of Jason's macadamia-nut crusted mahi mahi, I swore I'd be back. (I didn't make it here a second time on this trip, but perhaps later this year. :)) We also had the pleasure of meeting Brian, who was just as friendly as expected, and I love supporting places run by good people!
Mama's Fish House: "If you only eat at one restaurant, eat here" was the advice I was given by many! I called to make a reservation and in my entire two weeks on the island, they had one available for two people on a Friday for lunch, so that made the itinerary! It was an awesome experience—from walking the beautiful grounds to a few surprise tastings and special touches. Overall, the food was decent, but nothing I'd rave about… although I would go back for the experience.
Paia Fish Market: This place was on our to-do list because of the raving reviews, and it lived up to the hype. Fish tacos seemed to be my thing on the island, and they were as yummy as I'd hoped. It was also quick and reasonable. There are a couple locations, and the one I went to and liked is in Ono/Kihei.
MonkeyPod: This place was highly recommended, and it was only okay. I wouldn't go back unless it was for Happy Hour (we weren't there for this, but that may have been the main reason it was recommended), but I will say the outdoor seating is lovely.
Four Seasons Spago: My nicest dinner on the island was here, at Chef Wolfgang Puck's Hawaiian restaurant, with the company of my friend, Jeff (thanks, Jeff!). We ordered the Chef's Tasting menu, a 1989 bottle of wine, all accompanied by sunset views. We got to try everything from sushi to risotto to 4 different kinds of desserts. It was an amazing experience, and I'd definitely go back.
Food trucks: There were a few food trucks that I had a bite at, and while I can't remember which ones, they were all great. I'm still surprised at how some of the best food seemed to be from the food trucks, and was excited to enjoy a couple great meals from ones that popped up when I was hungry.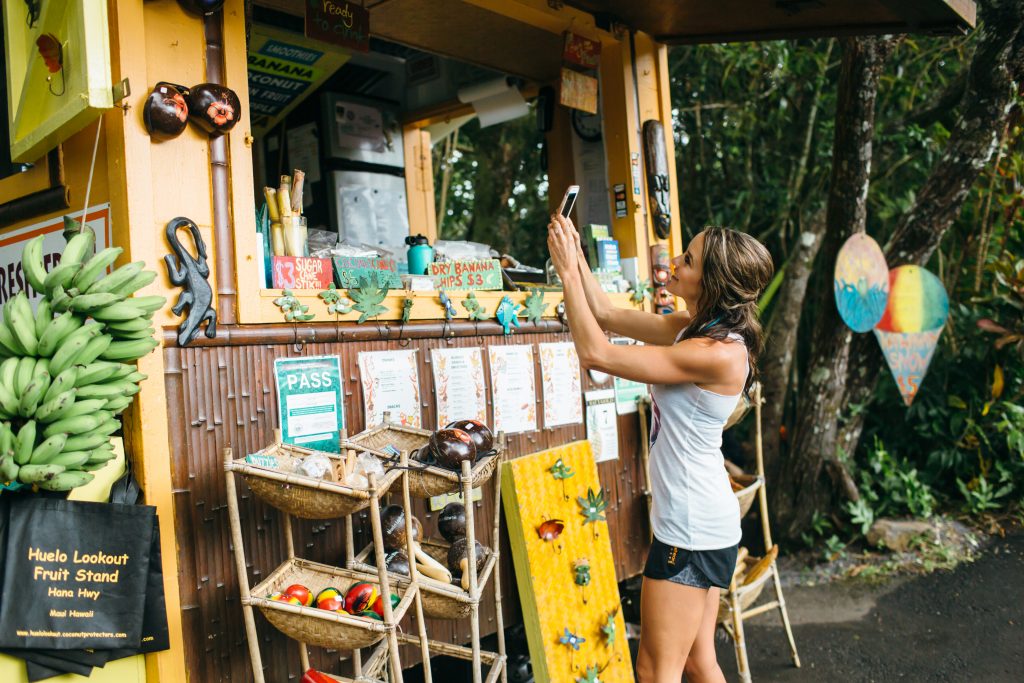 Coffee:
You know I love my cup o'joe, and just like my love for checking out new gyms when I travel, I love checking out new coffee shops—especially on foot! So, coffee gets its own section. 🙂
To my surprise, cute yummy coffee shops are something this island is absolutely lacking. Thankfully, I did find a couple awesome spots, but not until the end of my trip.
Now, full disclosure is that I'm a little picky when it comes to coffee: they need to have either heavy cream (first choice), coconut milk (second choice), or oat milk or hemp milk (or I won't order).
I tried several different coffee spots, and instead of reviewing them all, I'll just tell you my top three picks! My favorite coffee drink ended up being at the cafe at the Fairmont (which was convenient and unexpected)! The other place I found and visited a couple of times was Hawaiian Moons Natural food, a pretty awesome health foods store. This was also a great spot to pick up some groceries: they have an awesome salad bar, all sorts of fun snacks, and kombucha on tap (love!) And when I was in Lahaina, my favorite spot was Cafe Cafe Maui, which was the best place to hang out—either outside or inside, and use wi-fi and chat with the baristas. I ordered breakfast here a few times, too—options are limited, but it was nice that they had eggs, smoothies and a few other items.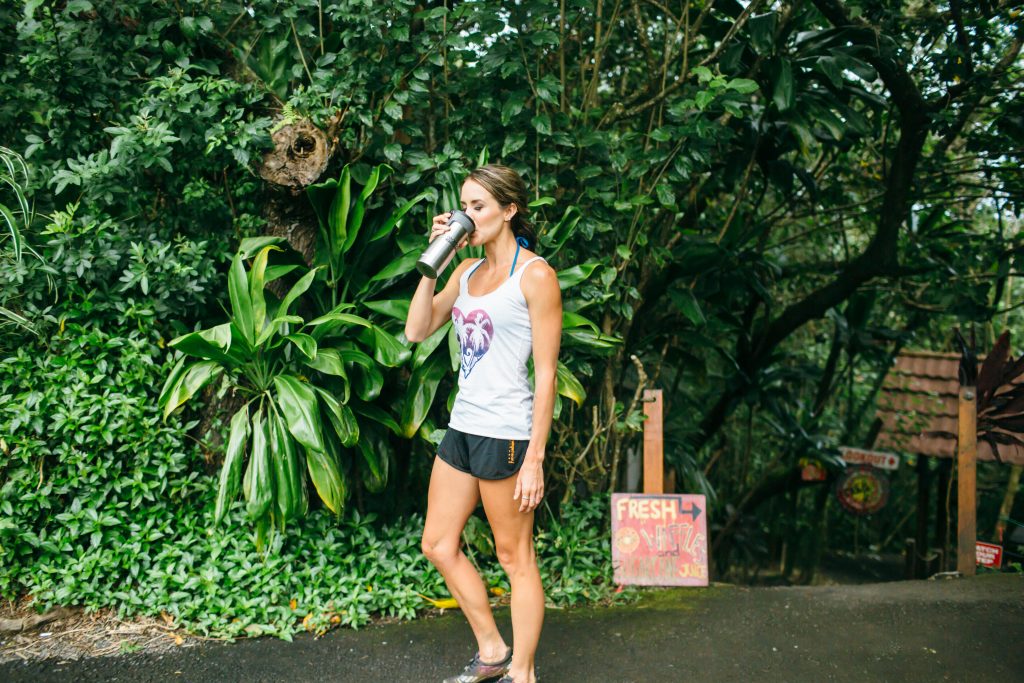 On my list for next time (things I didn't get to do):
There's so much I didn't get to do that my next trip could be a completely different experience! From snorkeling to ziplining to the Road to Hana.. I can't wait to go back!
Here are 3 things for sure making the list for my next Maui trip:
Snorkel at Seafire Charters-Molokini: I was told that this is like swimming in an aquarium, and that I'll love snorkeling after this! (I am a bit afraid of the whole breathing while underwater thing)
Road to Hana (maybe): I know people say you HAVE to do this when you're in Maui… and maybe I did miss out, but I feel like I got a good taste of the drive from my trip to the Blowhole, and the jungle from my photoshoot with Amy. And, while I loved the adventures I had and exploring I did on this trip, I was content with just one day of that road and the jungle, and spending the rest of my time near the beaches, in the ocean and under the sun. 🙂
Sunset Dinner Cruise: I really wanted to do one of these, but we just didn't have enough evenings! You can find some really good deals on these, especially if you're willing to listen to a little pitch—like you would a timeshare (I think).
A few Personal Takeaways:
1) I'll be back! I will most definitely be back… perhaps even later this year. I knew Hawaii would be amazing, but it was even better than I'd imagined. From the scenery to the vibes to the good energy and friendly people.. I loved it all.
2) Length of this trip: Everyone said I needed at least 10 days in Hawaii, and they were spot-on right. Two weeks felt waaaaay too long to me at first, especially since I'm not used to taking vacations. But, I realized I needed a solid 5-7 days to get into "vacation mode." I know it's a luxury to be able to take a 2-week vacation, but a week wouldn't have sufficed.
3) Next time: more relaxing. I wish I'd hunkered down a bit more… maybe had 1 or 2 actual beach days. Between all of the excursions we booked and the photo shoots (which took a lot of prep, and half to full days on the actual days), it didn't leave a whole lot of downtime. I don't regret doing anything, but next time I'd make sure to tack on a couple days to just chill. 🙂
4) I vow to love myself more. Like, *really* love myself to the point of booking a 2 week vacation on an island by myself or even with a friend (or both) to take some time to breathe and reconnect with my inner child and play and laugh and journal and pray and be grateful and learn something new and meet new people and relax and be inspired and refreshed and play some more and pray some more and fall in LOVE with myself.
Sometimes we need to hit the RESET button. I say this when we do our 10-Day Reset program every 4 months. But, it's not just your body, nutrition and hormones that we need to reset! I've come to believe that we need to do this with our pace of life, too —> for our mental, emotional, spiritual, and even physical health. It's all connected! I was practically 100% burned out in every possible way before arriving in Maui. And to tell the truth… I shouldn't have let it get that far. I wish I'd allowed myself to hit the reset button earlier, and more often in my daily life. And now, after 2 weeks of hitting that reset button HARD, I'm rejuvenated, refreshed and back into creative mode!!!
I hope you were able to take something from my experience—whether it's taking note of places you want to visit, getting the epic guidebook, or even just the inspiration to put some self-care on your calendar, whether that's a 2-week adventure to Maui, a weekend staycation, or a 30-minute massage.
Let's remember to take time for ourselves, and prioritize rest (and play!), even (*especially!) in the midst of our hectic, fast-paced world. Mahalo!