Reflecting over the last week on the Low Carb Cruise, I don't even know where to begin. It was filled with new friends and jam packed with information, food, adventures and some strong drinks. 😉 The cruise left from Galveston, Texas and visited Mahogany Bay, Isla Roatan, Belize and Cozumel, Mexico. We had presentations during the sea days (Monday, Tuesday and Saturday,) and were explored the ports and do excursions and wandering around on the other days. We had people of all different places in their journey: those intrigued in this way of life, but hadn't started making any changes yet, the seasoned crowd who had been living and eating this way for years, and those teaching others how to start and overcome roadblocks. It felt like a dream to meet so many of my guests from the Low Carb Conversations show, nutrition friends from Twitter, and to spend time with my co-host, Jimmy Moore! He is even more awesome in real life. Oh, and you can find my live tweets (and those from others), from the cruise under #LCCruise13.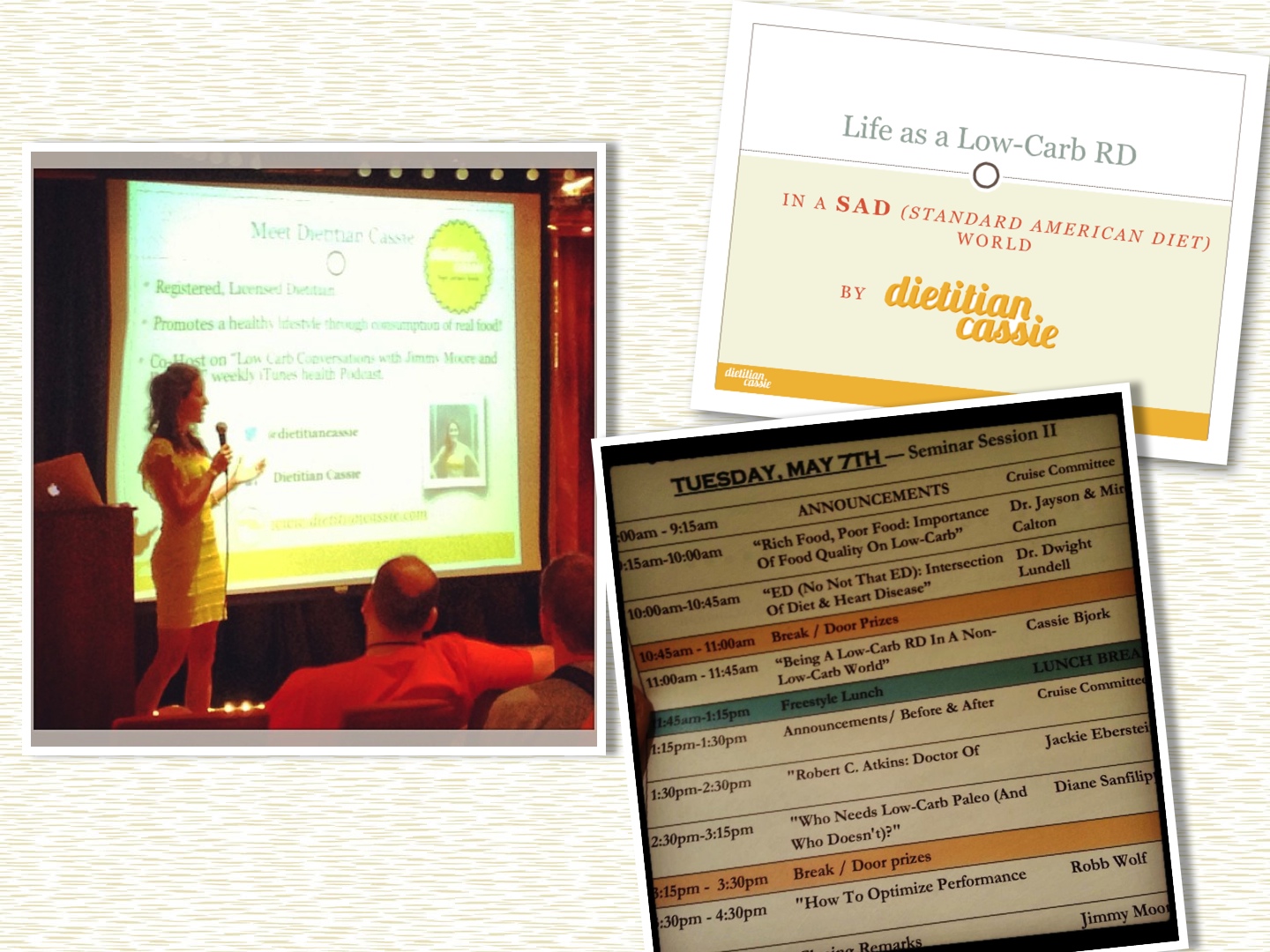 In my presentation I talked about being an RD (Registered Dietitian) who goes against conventional wisdom in my approach to nutritional therapy. I talked about how I cut through the bogus of mainstream nutrition practices to get where I am today, what this looks like in my everyday practice and how I handle the many roadblocks I encounter daily. Laura Dolson from episode 77 of LCC actually put together a better recap of my presentation than I could have myself! Check it out here in her blog post — the big paragraph at the bottom. My takeaway message: "Most health issues are connected to food. Real food is power!" I whole heartedly believe this. I was flattered when during Jimmy's presentation he said, "You cannot go to a dietitian unless it's Cassie!" And in Tom Naughton's Cruise Report he wrote under a picture of me, "The woman farthest to the right is Dietitian Cassie, one of the speakers for the week and probably one of the few dietitians in the country who tells her clients to skip the grains and eat plenty of good quality fat." That certainly describes my nutrition approach, doesn't it? 🙂
Dr. Dwight Lundell and I are pictured in the collage below on the right side. He is someone I truly admire for stepping out and talking about heart disease from his standpoint as a former cardiac surgeon. He's well known for the article Heart Surgeon Speaks Out On What Really Causes Heart Disease, and for writing this book: The Cure for Heart Disease: The Truth Will Save a Nation. During his presentation, he said "The concept of treating cholesterol for heart disease is complete nonsense…the BIGGEST fraud in medical history!" His words are powerful and full of truth. I had dinner a couple times with Jeremy and Louise (pictured with me in the upper left photo), who were my awesome guests on Episode 64 of the show with Jimmy. On the bottom left, that's me and my beloved co-host, Jimmy Moore. (He says I'm the sister he never had!) Jimmy looked incredible. He has lost nearly 80 pounds in the last year (close to 200 total), and is a true inspiration. On the right, Dave Asprey, who has lost 100 pounds by changing his nutrition, was giving me a private lesson on making his Bulletproof Coffee. (Coffee + butter = HEAVEN!) Something that makes me smile is that only with this type of community would we not finish all of our fruit for dessert, but DEVOUR the heavy cream with a spoon and drink coffee with a stick of butter. Fat is so good for you, and that's definitely something we all hold close to our heart. I saw and heard so many testimonies on the cruise of people's lives (and weight) that were changed with healthy fat.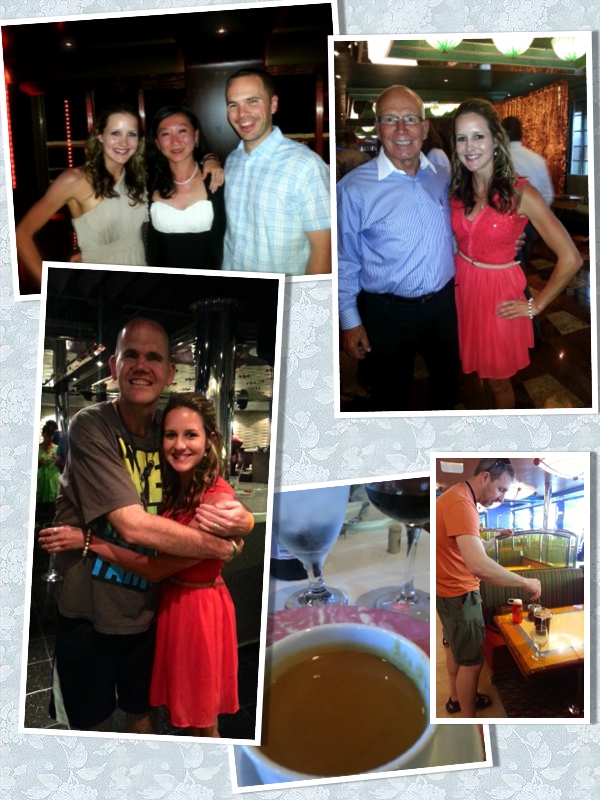 Fat is such a powerful macronutrient. A true testimony to this is how extremely well behaved the children on the cruise were. Dr. Wortmon's daughter Isabella, is the product of a low carb pregnancy. She is also a low carb baby, meaning she eats a high-fat, low-carbohydrate diet. Dave Asprey's two children are also low-carb, gluten free children who only eat real food. With all of the children I've worked with at the hospital and through family and friends, I have never seen children so well behaved, smart and focused in my ENTIRE life. It really shows what eating a high fat, quality protein, low carb diet can do. I talked to Dave about this at lunch and he said that kids want to be cooperative but their nervous systems don't always allow them to be. But when we give them the right nutrition their nervous systems are up, allowing them to be more self-regulated, focused and well behaved. I asked him a devil's advocate question: What would he tell people who don't think the nutrition really works? He smiled and said he thinks we have a pretty good control group and most of them are misbehaved. True 🙂 Him and his intelligent, sweet wife Lana wrote The Better Baby book about how nutrition helped them to get pregnant at ages 39 and 42 and how it's positively impacting their children. I bought it in an instant. Can't wait to read it. I'll take notes that may come in handy in the future 🙂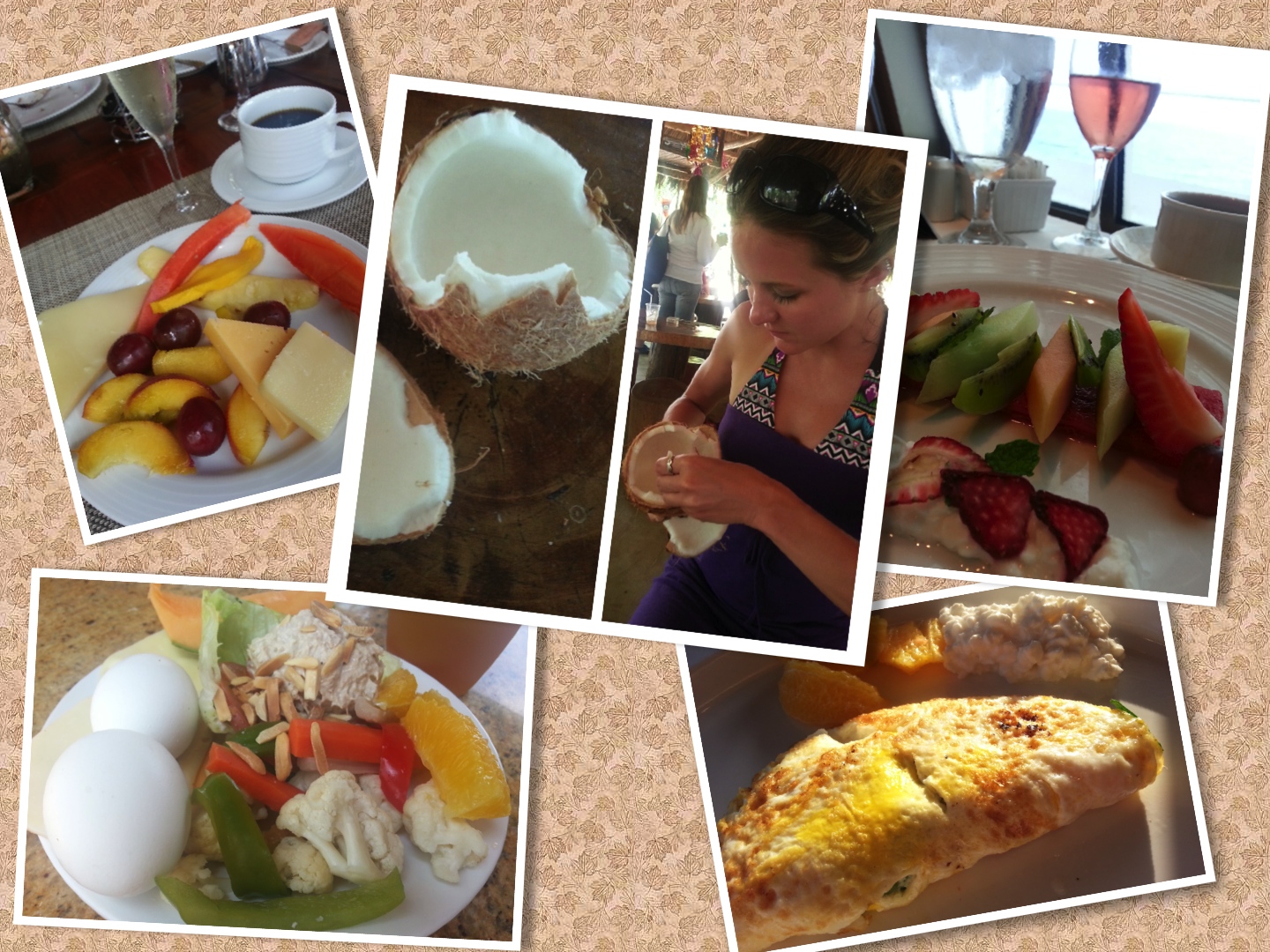 Being a dietitian and all, I thought I'd give you a few peeks at what I ate during the week on the cruise, and how I managed to maintain balanced eating (PFC!) at most of my meals and snacks. Every morning, I ate breakfast on the ship, regardless of whether I was staying on the ship or getting off in a new country. My days are always better (more focused, consistent energy and brain power!) when I start them off with eggs and butter.  At the omelet station, we had to specifically ask for "real eggs," to prevent them from giving us the mixture of who-knows-what that was poured from their mysterious carton. We also brought our own Kerrygold butter  and asked them to cook them in this instead of the watery questionable, likely damaged oil they were coating the pans with. It wasn't that big of a deal and they got used to it…so much so that they had a bunch of real eggs cracked and put into little bowls, so that all we'd have to do is say how many we wanted and they grabbed them for us.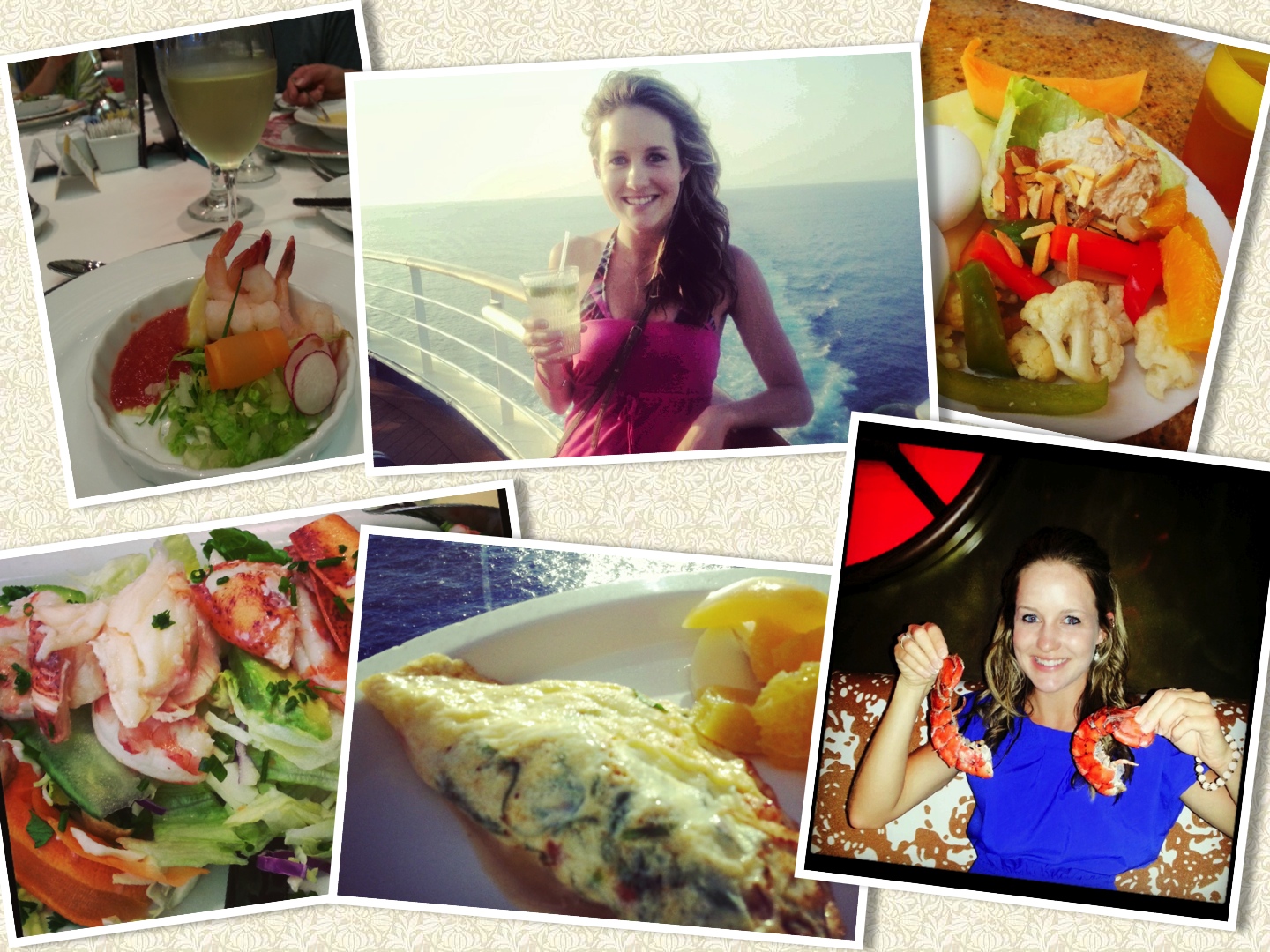 So, breakfast was eggs (protein), with butter (fat), and veggies, along with maybe a piece of fruit (carbs). Snacks were usually fruit with cheese and/or cottage cheese. I wasn't perfect at always getting both protein and fat in, but as long as I didn't have a carbohydrate by itself, I knew I was okay. (Carbs alone will spike your blood sugars! Protein and fat buffer this affect by slowing the assimilation into the blood stream.) Lunches were usually tuna salad with veggies, fruit and cheese, and dinners were always super easy because there was always a high quality protein source (I stuck with seafood mostly, but did branch out and try frog legs (tastes like slimy undercooked chicken!) and some fresh veggies with butter. I always ordered two appetizers and two entreés (that's the benefit of all-inclusive, right!?) because then I had more food to choose from, and to be honest, it wasn't always the greatest, but usually one of my meals would be excellent. I just never knew which one 😛 As I mentioned, we did some drinking too. I stuck with wine a lot of the time, but did order a few NorCal Margaritas (tequila, soda water and the juice from a real lime, pictured above). I really believe the sugar in alcoholic drinks contributes to the majority of the hangover. We felt great with these types of drinks, and you don't get that "gut rot" feeling when you skip the sugar (and artificial sweeteners for that matter).
In this next collage, you see me drinking coconut water straight out of a coconut (I may or may not have had the generous Belizian man add rum to it after I drank half of the water (he offered!)). When you're done drinking, you get to scoop the coconut meat out of the inside and eat it. It's the most delicious healthy fat ever (the picture of me doing this is a couple collages above). It was fun to try this more than once, to compare the meat of a younger coconut to a more mature coconut. The younger coconut meat is a bit slimier and more flexible, and the more mature coconut meat is a little more firm. Picture on the upper left is myself and my favorite two cruise roommates ever. Top right is me and aforementioned Tom Naughton from the famous, hilarious, eye-opening Fat Head movie. He's also a rock star. He and Jimmy performed Elvira at karaoke. What a duet it was 🙂 On the bottom center, is Mrs. Atkins who completely flattered me by finding me and telling me that she was so proud of what I'm doing, and that if her husband, Bob, were alive, he would be telling me the same thing and encouraging me to keep up the good, hard work. What a doll. On the bottom right is Mira Calton in the center, Charissa on the left and myself on the right.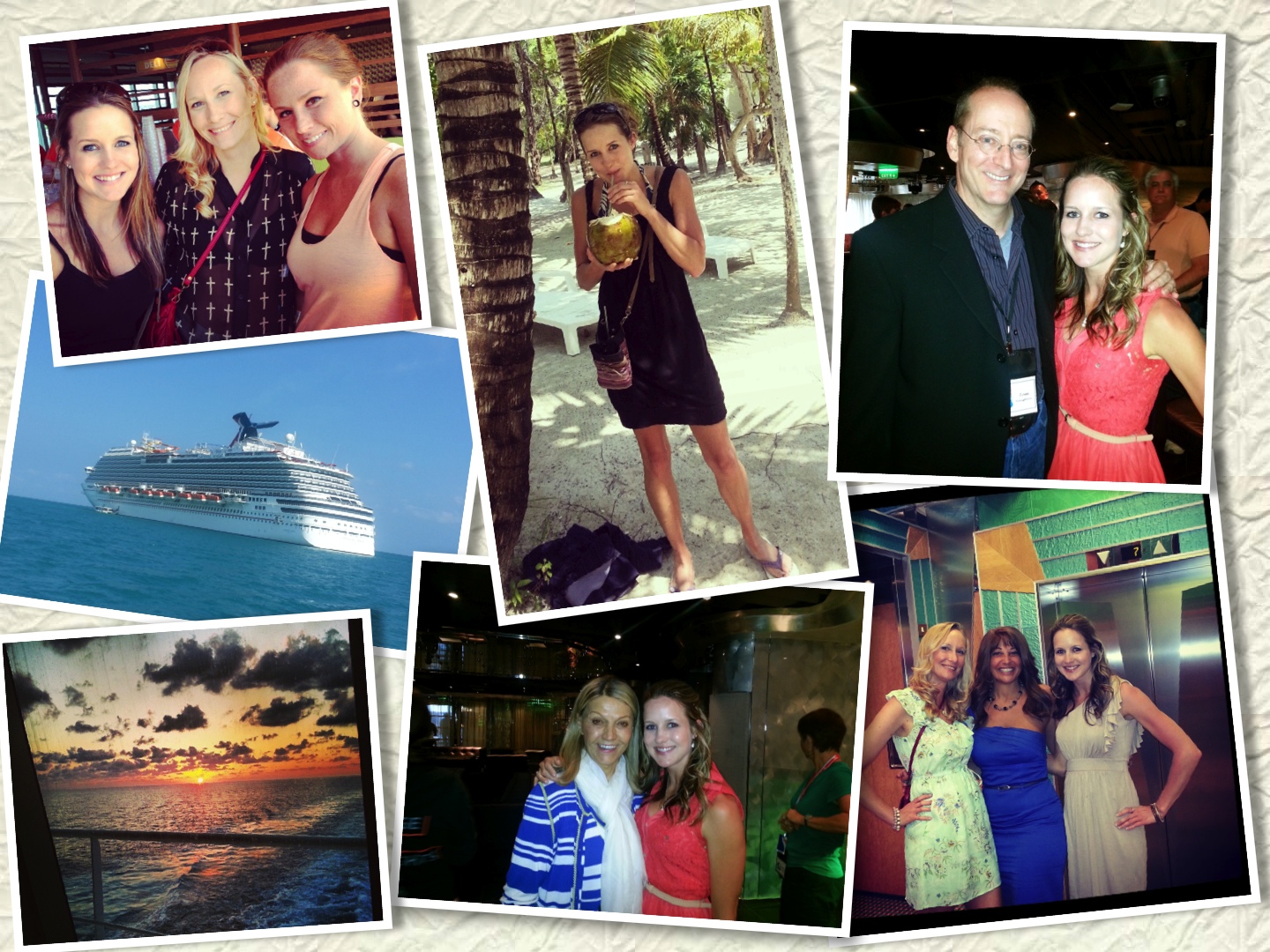 This picture is of my "little group" for the week. My roommates who I met for the first time on the cruise, Sara (far left), Charissa (far right), Diane Sanfilippo, in the middle, and Mira Calton from Calton Nutrition, second from the right. That leaves me — second from the left 🙂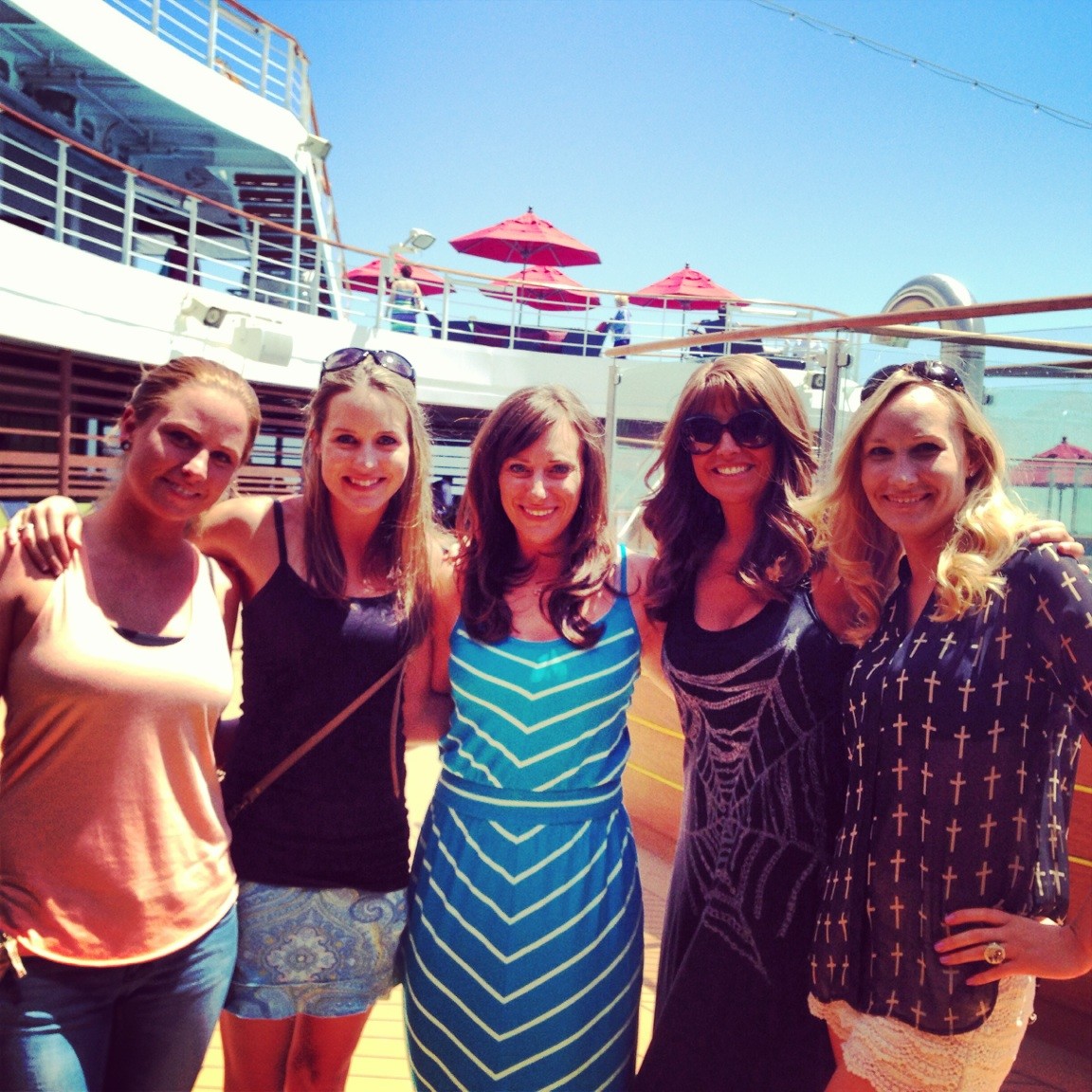 Picture below on the right is from the cave tubing excursion in Belize! Although there were many, it was definitely one of the highlights of my trip. It was active (had to hike for about 45 minutes before we could drop our tubes into the water,) nerve-wracking (bats all over the ceiling of these dark caves!) and unique (Have you ever been taught how to EAT a termite? "Just bite down on it with your teeth and squeeze hard to kill it. Then swallow it and your digestive system takes care of the rest!" News to me. And unfortunately, I just wasn't that hungry :P) The picture was taken when we threw our tubes on to land and jumped into the water to cool off. (It was HOT!!!!)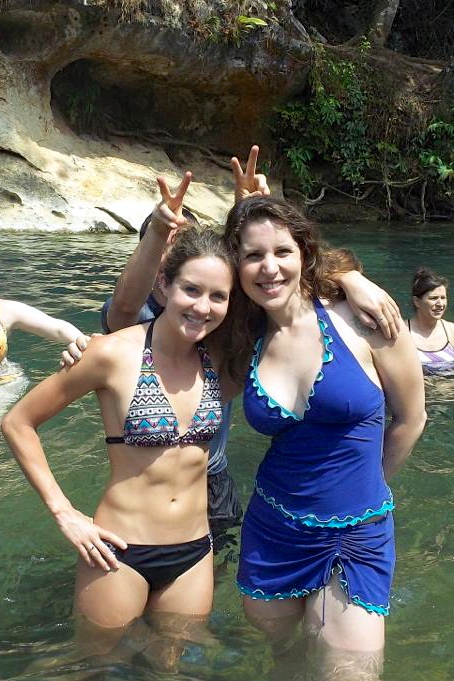 And with all of the discussions and presentations on being Primal, we tried to act Primal too! Below is my roommate, Sara, myself, and our new friend, Primal Toad.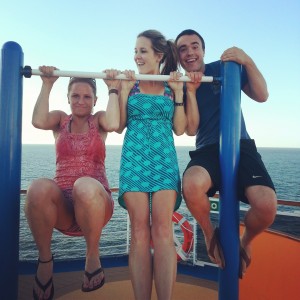 Last but not least, below is my nutrition sister Diane, (author of Practical Paleo,) who also goes agains the grain, so to speak.  I have so much respect for her, the role model she is and the work that she does. She's an awesome, fun person too and we had a great time on the trip.
When all is said and done, the Low Carb Cruise was an amazing experience for everyone. I can't wait to go again next year and hope that you'll join me! I'll be posting info in the fall when it's time to start thinking about registering. Stay in touch! 🙂